Miles & Barr Speed Awareness Board Campaign
18 May 2018
Miles & Barr Speed Awareness Board Campaign
We've had an amazingly good response to our new Miles & Barr boards going up in your local area. Now that they have been in the public eye for a few weeks we felt it would be a good time for us to let you know more about the campaign…
Why the Speed Awareness Campaign?
In the UK estate agency boards are seen in towns and villages everywhere, with our own boards in the East Kent area seen in particularly high volumes. We realised that not only can our boards promote people's properties, but at the same time, we also have a great opportunity to use our boards for the good of the community. Given the positioning of boards at the front of houses along roadsides the Speed Awareness Campaign was in our opinion a perfect choice to pursue this.
The campaign aims to fall in line with our company strapline 'Valuing People Not Just Property' – something we feel very passionate about.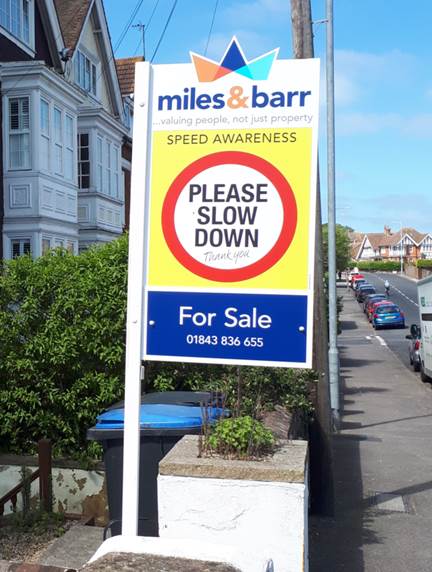 Getting behind the Speed Awareness Campaign
As you can imagine, a campaign like this does not come about without a lot of work behind the scenes, but thankfully we had some fantastic people to help make it happen.
We sought advice and support from local Cllr Emma Dawson, who played a key role in providing us with guidance from Kent County Council Highways Department relating to the use of our boards for such a campaign. They outlined some guidelines for us to follow which assisted in making the process of launching our campaign possible.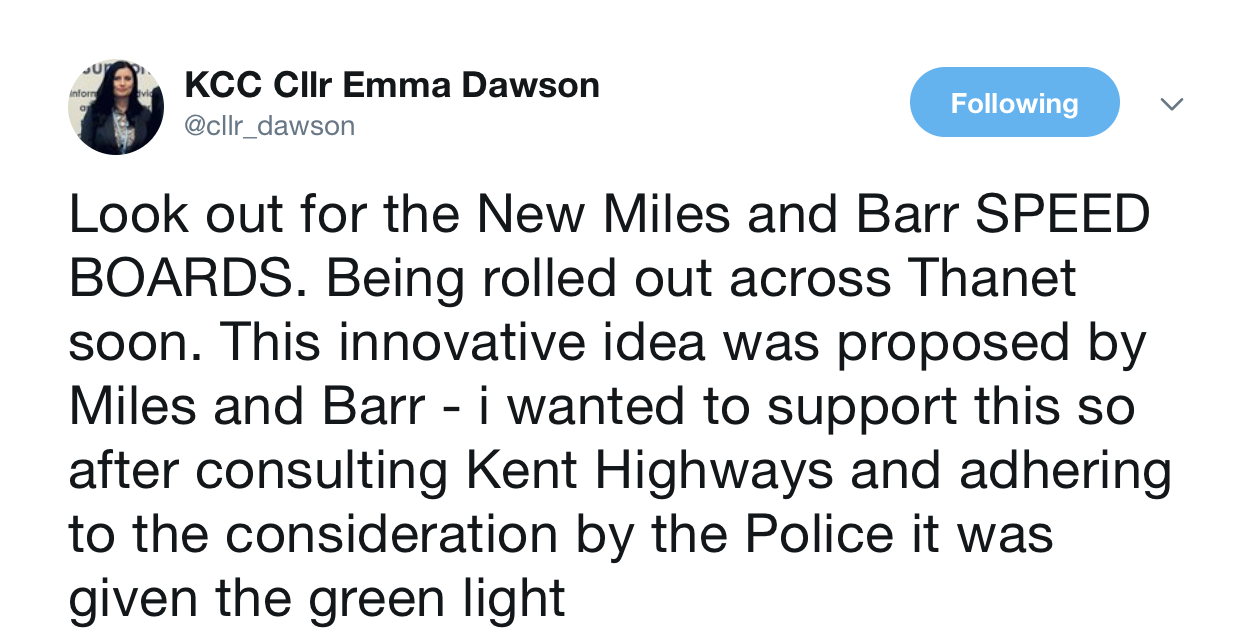 Our long-term friends over at Kremer Signs provided us with examples from a concept stage all the way to the launch of over 2,000 boards into the local area. As always, their service has been five-star and we are delighted to have them behind our campaign.
Things to remember
We are not acting on behalf of the Highways Department. KCC provided us with one proviso; the boards can only be placed on private property – they cannot be placed directly on a public highway.
We are also not advertising that certain properties are in dangerous places to live, as our new boards are displayed at every property we are marketing and in all areas, whether that be a through road or a cul-de-sac you'll see them everywhere!
We have undertaken this campaign with the best intentions. The boards have proven to be a huge talking point already and if that means it has made someone think about their speed, then we have gone a long way to achieving our aim.
Support from the public
We have had some fantastic messages of support already since launching our Speed Awareness Campaign – you can see a few examples below.
Finally, everyone at Miles & Barr would like to offer a sincere thank you for your support and understanding in our campaign that we hope can help to make a positive impact in our local areas.
Contact
If you would like to help support this campaign please contact us on This email address is being protected from spambots. You need JavaScript enabled to view it.
Instant Property Valuation
What's yours worth? An up-to-date valuation of your property is the first step to finding your dream home!