Five mistakes to avoid when planning a new kitchen
27 Jan 2020
Five mistakes to avoid when planning a new kitchen
So, you've made the decision to invest in a new kitchen as your next home improvement and are no doubt excited to see it take shape. But what mistakes should you be looking to avoid?
We've prepared some handy tips to highlight some of the most obvious things people forget. Remember, while you've already got styles in mind, step back and ensure functionality has been considered. After all, the kitchen's primary purpose is to give you the space you need to prepare and cook.
1. Not considering your working space
With that in mind, space is where we'll start. A mistake many people make in kitchen design is not maximising the useable space, so planning is key.
Regardless of whether you're having minimal or busy worksurfaces you need to consider just how many appliances you're likely to be using on a daily basis.
"It's essential to the design process to have a full understanding of your needs and wants." – Conor Laville, Wren Kitchens.
2. Underestimating storage
It only seems right to go from working space to storage. You should think about how your kitchen will need work for you to ensure you get the storage right. Plan and find a home for everything. Let's face it, you'll either have or know someone who has 'that draw' in their current kitchen set up.
Once you have made a list of the what's essential (be ruthless and you'll thank yourself later) you can plan accordingly for what goes where.
Integrated storage is a great way of maximising the space you have, regardless of how big your kitchen is.
Don't just think cupboards, consider wall space and shelving – magnetic solutions work well, though think of what's in reaching distance of children and pets.
Don't overcrowd it, you don't want to detract from the aesthetic goal you're hoping to achieve.
As you'll already know, there are masses of options for clever pull-out cabinets, which will work well for the less frequently used items. Keep those daily used items easily accessible too.
3. Thinking short term: Design
If you've made the decision that you'd like to change your kitchen the reasons will be pretty obvious to you. Commonly it's one or two considerations; it's dated or it's not working for you.
While everything seems to be about being as 'instagrammable' as possible, trends change.
If you're thinking of going for all the mod cons it is more than likely those will date and become yesterday's news, sometimes quicker than anticipated.
Short term thinking may well leave you in the same position as you were when you came to the decision for the changes in the first place.
Kitchens aren't cheap to replace, however there will be things you can initially plan in terms of design that will be easy to change without costing the earth.
Consider everything from colours and materials. If you're unsure about anything in your kitchen design when it comes to picking schemes, stick to neutral and classic choices.
You don't want to put off potential buyers if and when you decide you want to move. In short, don't be short-sighted.
4. Not planning your budget
One of the most common mistakes in any home project is going over budget. You can quickly find the cost of your new kitchen increasing, so get an inventory list sorted early doors – include everything. Being cost-efficient and not cutting corners is important.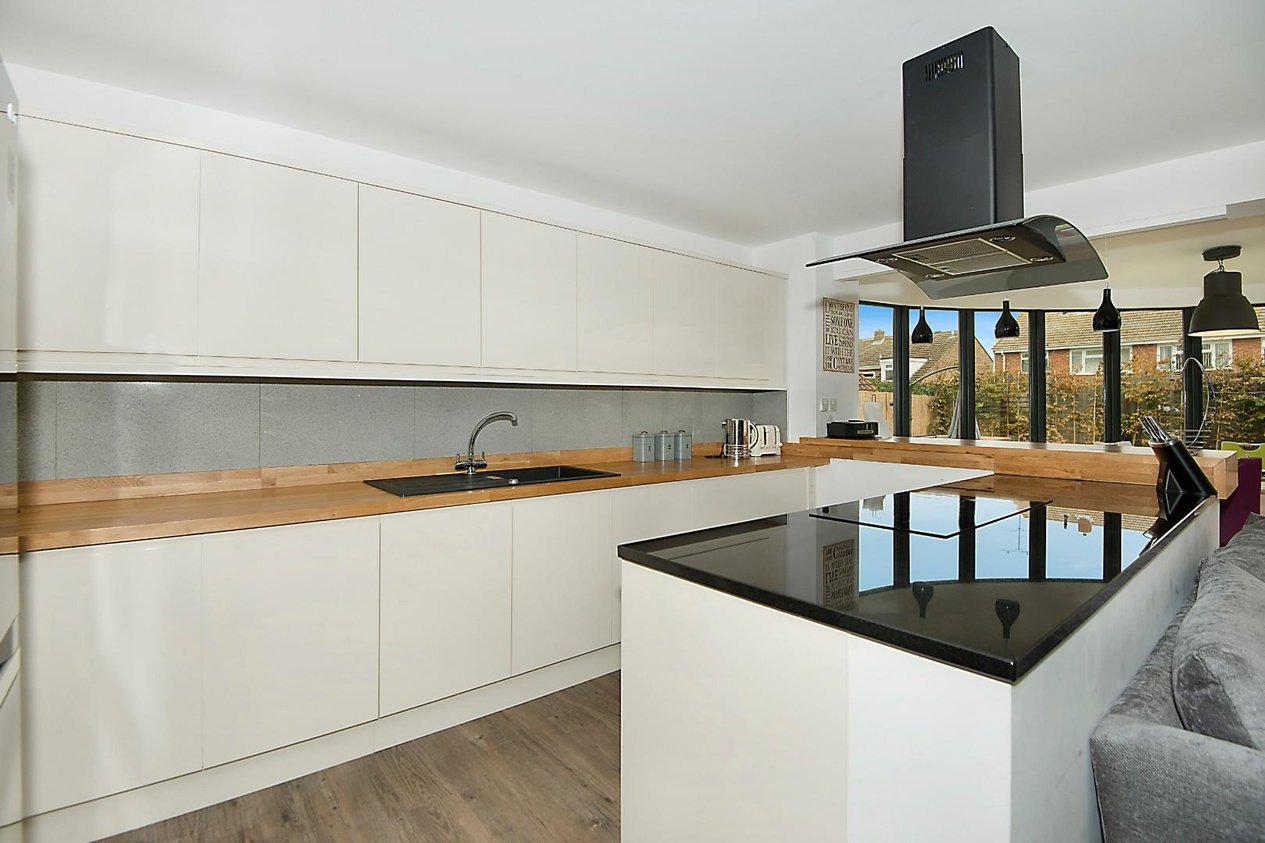 Above: Property for sale with Miles & Barr Exclusive Homes
"Having a set figure and keeping what you need from your renovation in mind can help avoid overspending. Don't spend money on unnecessary or impractical items that will wear easily and need to be replaced." – Hayley Simmons, Magnet.
5. Avoiding expert opinion
While DIY is great, it won't hurt to take on some expert advice – even if it's just for sounding out your ideas. Remember, with a kitchen there are so many things to consider that aren't immediately obvious by eye.
Plumbing, wiring and ventilation need to be well-planned and those registered in the trade will be able to give you friendly advice. The project timeline will also play a part in this, just be sure that hard work isn't wasted and that something installed too early on doesn't need ripping out.
If you're unsure of anything, seek advice. They're experts for a reason!
Instant Property Valuation
What's yours worth? An up-to-date valuation of your property is the first step to finding your dream home!