MILES & BARR MOVES ITS HERNE BAY OFFICE ACROSS THE ROAD
09 May 2022
MILES & BARR MOVES ITS HERNE BAY OFFICE ACROSS THE ROAD
On 9th May 2022, Miles & Barr, East Kent's leading independent property group, relocated its Herne Bay branch to a more prominent and spacious high street position. 2022 marks Miles & Barr's 20th year of operation in the coastal town with the move across the road occurring to accommodate an expanding Lettings and Sales team and Exclusive Homes market.
From today, house hunters and sellers will find Miles & Barr's contemporary and spacious branch located on the corner of the High Street and William Street. The prime location also provides Miles & Barr's Exclusive Homes division with a dedicated customer-facing 'shop window', as the number of high-end properties in Herne Bay's housing market has grown significantly over the last five years.
Mark Brooks, CEO of Miles & Barr, commented, "We are thrilled to be celebrating our 20th anniversary in Herne Bay, and the relocation of our Herne Bay office to a larger and more visible location means that we can continue to grow and deliver another 20 years of standout sales and lettings services. The office has established a great reputation which has made them a go to agent in this popular seaside town.
"Our high street move marks our second relocation in Herne Bay this year, following the opening of our newly refurbished Head Office at The Links, Herne Business Park, in January 2022. We are proud to be a part of Herne Bay's community, as well as being one of Herne Bay's biggest employers," continued Mark Brooks.
The design of the new Herne Bay office took inspiration from the company's existing modern design with vibrant touches, as well as nods to the new Head Office's outdoors inside concept.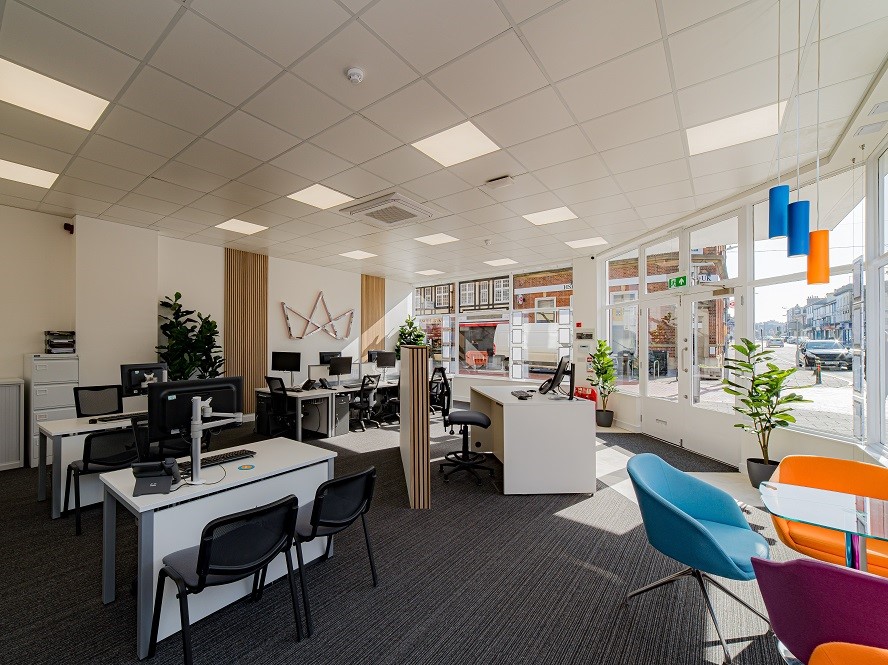 "The team has excelled over the last two years and risen to the many challenges that the housing market has dealt. The new branch ensures that we can continue to provide our clients with a high-quality level of service, as well as being able to adapt to the changing landscape of Herne Bay's property market with the continued growth of Exclusive Homes. We invite everyone to come in and see the new space and join us at our official opening celebrations at 10.30am on Saturday 14th May. As a proud sponsor of Herne Bay Youth Theatre, we are delighted that an intimate group of performers will help us mark our formal opening," said Adam Mansfield, Branch Manager of Miles & Barr Herne Bay.
The company and the Herne Bay team are actively engaged in the local community, participating and supporting Herne Bay Youth Theatre and Herne Bay Tennis Club's Rusty Racket courses, as well as fundraising for charities such as Porchlight.
In 2021, Miles & Barr received two customer service awards from ESTAS and also won a coveted Negotiator Award, 'National Employer of the Year'. The business retained for the fourth consecutive year, Relocation Agent Network's 'Best Estate Agency of the Year South East' title, as well as retaining the relocation contract for the Herne Bay area.
Founded in 1999, Miles & Barr has grown organically and through acquisitions to become a leader in Kent's property market. The independent property group is a specialist in selling and buying homes, lettings, property management, relocations, financial services, commercial sales and lettings, as well as conveyancing. With operations across 12 sales and three letting branches, as well as a head office located in Herne Bay, Miles & Barr employs more than 260 members of staff from across the county.
Miles & Barr Herne Bay is open Monday to Friday between 8am and 6pm and Saturday 9am and 5pm. Contact the team on 01227 740840.
For further information visit www.milesandbarr.co.uk
Instant Property Valuation
What's yours worth? An up-to-date valuation of your property is the first step to finding your dream home!